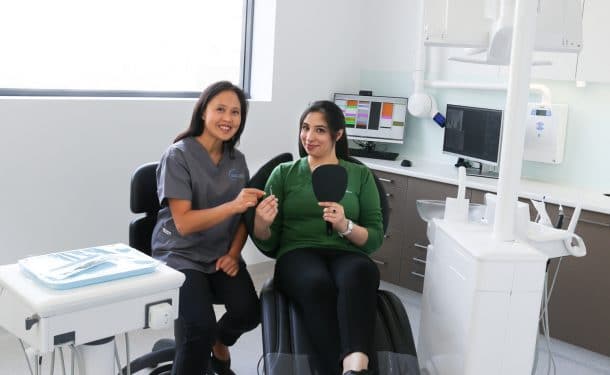 It's quite possible that your regular visits to your Dentist Epping went out the window during the past year with COVID-19's interruption of our lives. Please be aware, though, that dentists in general (and that certainly includes us) have the very highest standards of infection control in the country. So there is no need to worry about visiting us!
Our dental clinic is a very safe place because of our mandated and monitored infection control. On top of that, we have set the special COVID-19 preventive systems in place advised by the government.
We want you to be safe in our clinic – and we want to be safe ourselves!
So do come and see us, as it is very important to have regular dental check-ups for your oral health. We can deal with any little issues, so they do not become big problems.
And please bring all your children as well to see us at your Dentist Epping – even those who might be younger than school age. You might think their oral health is assured because of their youth. And hopefully, their oral health is fine, especially if you have been diligent in helping them to brush and floss their teeth.
Or perhaps you are not concerned as their milk teeth will fall out anyway. Despite falling out eventually, having healthy milk-teeth is vital as they help guide the permanent teeth into their correct places.
However, dental visits for the very young are about more than your child's immediate oral health. They give your child a chance to get to know us and be comfortable with us. Your child can become familiar with our clinic in an entirely low-key, stress-free situation – even have a nice ride up and down in our dental chair. We get a chance to check for any unusual structural issues affecting your child's mouth. And we get the chance to reinforce those oh-so-valuable messages about cleaning, flossing and a healthy diet.
You don't want your child to be amongst the 40% of Australian five-year-olds who are not familiar with their dentist. Oral health doesn't happen by chance – it needs proactive management, and we at Dentist Epping will be honoured to help you in that.
To find out more, please click the link for an appointment for a consultation: